Hern Marine
7341 Dixie Highway (Rt. 4),
Fairfield Ohio, 45014
Tel:(513) 874-2628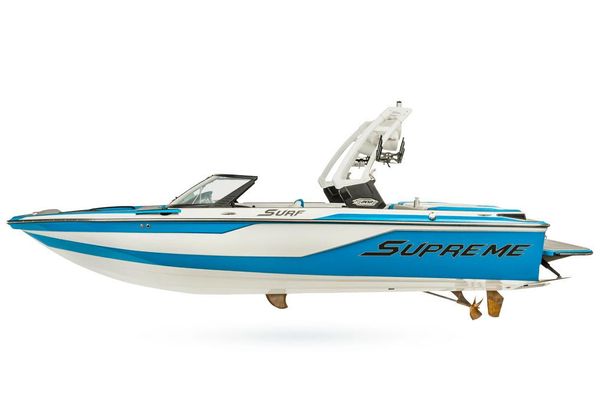 A cool looking 20-foot v-drive wake, surf and ski boat that rides beautifully while meeting weight and length restricted lake requirements as well as providing extreme value. The Supreme S202 throws amazing waves and wakes with 1500 lbs of available plug and play ballast. And even when loaded to ride, the S202 handles like a dream thanks to its Deep-v Hull. The accommodation on the inside is as mind-blowing as the world-class performance. The S202 accepts as many as 9 with storage for them all. Form follows function with brightly colored satin matte Spradling Vinyl sewn with GORE TENERA Thread by GORE-TEX. This boat The first boat in the water sports industry to be built completely through the Vacuum Infusion Process (VIP), the S202 is small, but strong, consistent and environmentally friendly.
Standard Features
GM Marine EX3 by Crusader 1.72:1 GR (5 Year Warranty)
Engine Water Intake Strainer
Gel Coat Scheme Split
Crusader/PCM Digital Speed Control w/ Paddle Wheel Input
4 Pull up Cleats 6″
Stainless Steel Rub Rail Black
Rear View Mirror (STD)
Depth Finder
Fiberglass Swim Step
Supreme Friction Non-Skid Floor Kit Charcoal
2nd Battery Package with Control Center
Center Wake Plate
One SmoothTrac Fin
Pro S5 Tower System ( Black or White)
Supreme "Quick Fill" Ballast System
Bow Ballast Hard Tank
Clarion CM-2 Bluetooth, CD, AM/FM USB Stereo, w/6 Wetsounds WS65B Speakers, and Wetsounds HT-6 Amp
Tandem Axle Trailer w/Disc Brakes both Axles, Alum Wheels, LED Lighting, Swing Tongue, Stainless Retractable Transom Straps, Aluminum Fender Steps, Winch and Strap.